YOU WANTED THE BEST, YOU GOT THE BEST...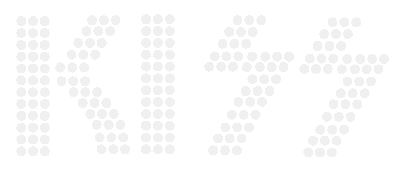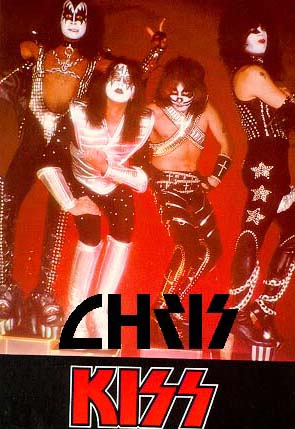 Who In The World is KISS?
The Band:
Gene Simmons: Bass Guitar, vocals, "The Demon"
Paul Stanley: Rhythm Guitar, vocals, "The Star Child"
Ace Frehley: Lead Guitar, vocals, "The Space Man"
Peter Criss: Drums, vocals, "The Catman"


Important Features in ChrisKISS
Kisstory
Kisslinks
KISS Tablature
Ace's Solo Album Lyrics
Ace's 12 Picks Album Lyrics

ChrisKISS News: Summer Edition
The KISS movie "Detroit Rock City" on DVD is here! buy your copy and support KISS .
KISS recently received their star on the famous Hollywood Walk of Fame; go check it out!
Have you seen the new milk add with KISS??
KISS was overlooked for as one of this year's inductees in the Rock and Roll Hall of Fame in the year 2000!!!!!
KISS is on its farewell tour.... have you gotten your chance to see KISS in their final concert in makeup?
KISS Alive IV is delayed from hitting the shelves due to missing their production deadline; when is this album hitting the shelves?
KISS at the Pond: From my sources, KISS had a terrible performace at the Arrowhead Pond. Ace missed his cues, Paul got stuck on his sled, Gene got stuck hanging, needing a box to take him down. Does the movie "SPINAL TAP" come to mind???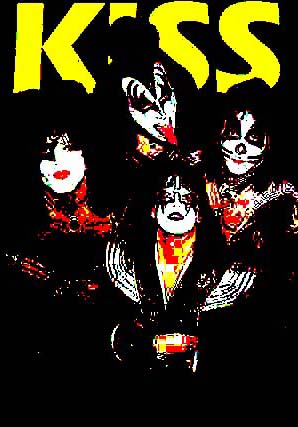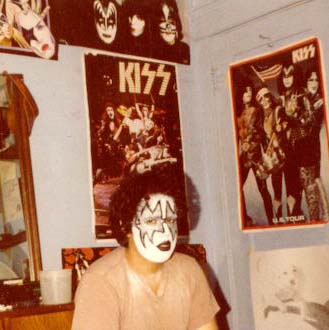 About The Webmaster:shown above 1980, 10th grade
Chris L first got into KISS in 1976 when he was in 7th grade. Despite the ridicule and teasing, Chris has remained a loyal fan even to the present.
Favorite Band member: Ace
What KISS concerts have I attended: 1979, 1983,1985,1996
Favorite KISS song(s): "Shock Me", "Rock Bottom"
Why do I like KISS?: KISS was always the unique and different band. No other band has their own comic book, action figures, special costumes, etc.
Why am I an Ace fan?: Well, Ace is a lead guitarist, and I have always admired his playing and have patterned my style after his. I also have a Les Paul, thanks to Ace's influence. I also liked Ace's Spaceman persona, being a space buff myself. Visit Tour Program for recent photos of webmaster on tour.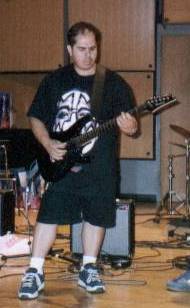 Webmaster on the NGW Tour 2001
wearing fav. Ace T





Awarded 12/18/97



Awarded 1/19/98



Here.
This Hard Rock Revolution site is owned by ChrisL.

Join the Hard Rock Revolution?

[Skip Prev] [Prev] [Next] [Skip Next] [Random] [Next 5] [List Sites]


LASA Spacestation
Visitors served!
Disclaimer: This site is a personal fan site. It is not endorsed by KISS or any Fanzines or fan clubs.
Note: If you believe that KISS is Satanic, or that KISS stands for "Knights In Satan's Service", then you are an Idiot!
Tipper Gore says that "if the music is too loud, then you must be TOO OLD!!!!"


Copyright © 1997-2002, Cyberpunk Inc., revised February 11, 2002